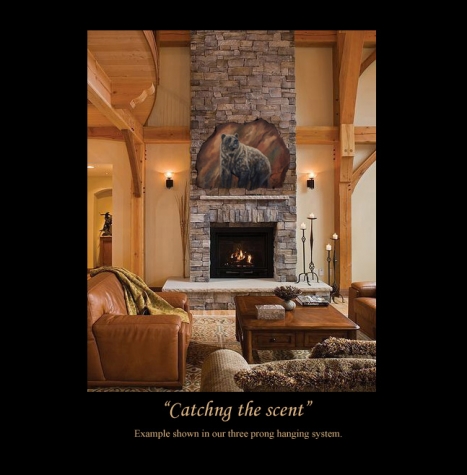 WELCOME TO KIMBERLY BOWEN'S - FINE ART ON CANVAS AND STONE

Are you looking for something different in fine art or interior furnishings? Artwork that is so rustic and unique that seeing them in person entices you to want to touch it? Imagine hanging a beautiful hand-painted, one-of-a-kind piece of art above your fireplace, maybe build it into a back splash, stone surround, in an alcove, display it in a wrought iron stand, on a mantel, tabletop or in a foyer for a bold entry - the options are endless!
Original Paintings:
Each original is hand painted with acrylic paints on either canvas or selected pieces of Arizona Flagstone. Whether you choose an original painting, a print, or commission a specific work, these pieces offer a unique option of interior decorating.

Giclee Prints:
What is a giclee print? It is a print that begins with a digital file taken from either a transparency or captured directly from the orignal painting. It is checked for accurate color, hue, saturation, brightness and sharpness. The file is then sent to a state-of-the-art, large format inkjet printer. Millions of microscopic droplets of archival pigmented ink are sprayed onto a specifically prepared canvas or archival paper producing a vibrant image that is faithful to the original painting. Each canvas print is protected with a UV block coating to ensure maximum longevity of the image.
Giclee prints from Lazy K Studios are produced utilizing the highest quality and most technologically advanced equipment and materials available.
All limited edition prints are signed and numbered by Kimberly Bowen.

ARTIST STATEMENT
My work is simply a personal exploration of a vision, nature, shape, color and texture-one that has been ongoing for several years.
In addition to my original paintings on canvas, and to achieve a more natural setting, I have chosen thin pieces of Arizona flagstone as another medium. With the paintings on canvas I start with a light or heavy archival texture before paint. As for the stones, I utilize the natural fissures. Working with acrylic paints, combined with the added or natural textures, a palette of warm earth-tone colors bring out a different personality in every painting. Specializing in horses, wildlife, landscapes and western themed portraitures, these mediums sometimes give the appearance of two-dimensions allowing the subjects to come alive.
Once the paintings are completed, they are custom framed (if on canvas) or, the stones are sealed and placed in a custom wrought iron, hand forged easel giving it a beautiful yet rustic feel. Other applications for exhibiting the paintings on stone include; our three prong wall hangers-giving the opportunity to hang and display almost anywhere, or they can be built into decorative stone walls, fireplace surrounds, tile cut for a more contemporary western feel, or just stand alone in an entry or foyer.
My love for animals and the enjoyment of painting them has been a passion since I could pick up a pencil. Using smoky hues and adding kindness to the animals eyes bring out the beauty and warmth of these images conveying my general happiness about life and the joy to create such a unique piece of art to last for many years to come.